Geothermal technology company GA Drilling has successfully tested a new tool that could cut the cost of deep geothermal drilling by doubling drilling speeds and extending the drill bit lifetime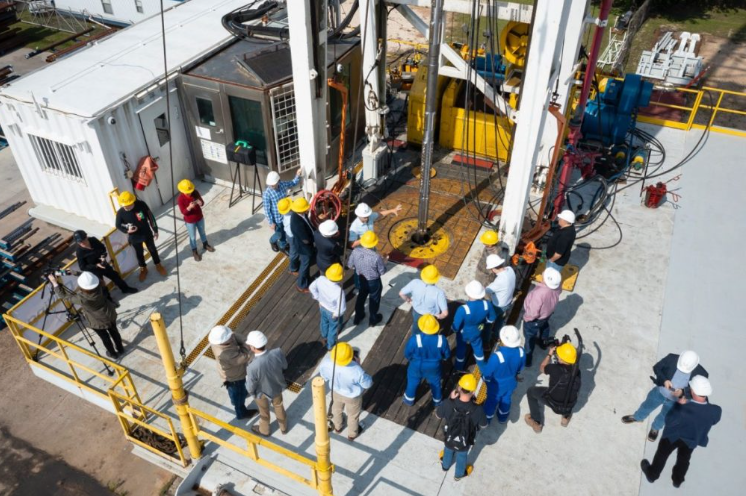 GA Drilling, in partnership with energy industry tech provider Nabors Industries, tested its new Anchorbit deep drilling tool this week (25 April) at Nabors' technology centre in Houston, Texas.
Anchorbit is a downhole «walking» system designed to prevent vibrations and improves stability when drilling with rotary systems in the hard and abrasive formations commonly encountered in deep and hot geothermal projects.
In these conditions, GA Drilling claims Anchorbit can double the rate of penetration and bit lifetime since the tool allows for the stabilisation of the bit in the wellbore and thus applies more weight to the bit. Currently, drilling in such conditions is accompanied by vibrations, a low rate of penetration and frequent replacement of bits.
During the test, the system functioned properly and successfully gripped the wellbore wall as the team drilled in a test well, GA Drilling said.
The company believes that integrating its drilling tools with Nabors' automated drilling operations could accelerate field commercialisation, eliminate traditional economic barriers to deep geothermal projects, and expand global access to geothermal energy.
Up until now, geothermal power plants have delivered 24/7 energy for decades but only in specific tectonically active areas like California or Iceland, where only relatively shallow drilling is required.
According to GA Drilling, Anchorbit could increase the number of countries that can carry out cost-efficient drilling to harness deep geothermal energy resources as it is purpose-built for high temperature and hard rock formations. The technology's aim is to penetrate crystalline rock at high penetration rates at depths exceeding 5km.
GA Drilling founder and CEO Igor Kocis said: «For several years, our team worked relentlessly to enable clean, baseload geothermal power in any place of the world. We are thrilled that today we demonstrated in a real well a significant achievement: the successful use of our first Anchorbit tool, applicable to today's geothermal projects.
"It will improve their returns, reduce the risk, and help the current industry to expand projects into new territories. We are starting a new era for our company and for the whole geothermal sector to become a decisive player in the energy mix. With this breakthrough, we have made another big step toward delivering our promise of 'geothermal anywhere.'»
Nabors Industries president of energy transition and industrial automation Siggi Meissner said: «Congratulations to GA Drilling on the successful demonstration of Anchorbit technology. The test provided valuable experience and information as we look to integrate new, innovative geothermal tools on Nabors rigs. We look forward to continuing our collaboration with GA."
Nabors Industries is a provider of advanced technology for the energy industry. GA Drilling, a geothermal technology company with operations in Houston, US; Bratislava, Slovakia; and Bristol, UK, is a specialist in advanced drilling using plasma and thermomechanical technologies.

Fuente. https://www.geplus.co.uk/news/